*The Blackest part of night is shown as a faint sound of music is heard in the background as you hear footsteps coming closer and closer*
*As this is getting louder and louder a figure is shown and it is none other than Raven.*
Raven-When you are born you are nursed and protected from the outside evils that the real world has to offer you. However when you are finally thrown out to the frost ridden thing know as the "Real world" you realize that life becomes very Black and White. It becomes cutthroat and most do not handle it the way they should. I know i didnt.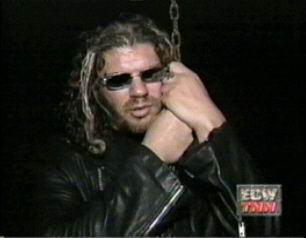 Raven-The Great Jim Morrison once said "Expose yourself to your deepest fear; after that, fear has no power, and the fear of freedom shrinks and vanishes. You are free." What i have learned since i have gotten hear in WCW is that Fear is a Campaign, That People like Eric Bischoff will make The younger boys in the back become his slaves of Fear. He will bully them with Fear. Lie to them. Promise them opportunities that he can never make come true. I for one cant wait to see it.
*Raven Pauses for a second and continues as the wind is starting to pick up and the music is almost over*
Raven- I dont care about anyone here but myself. Why should I? Where was everyone when i needed love and attention? Huh? WHAT ABOUT RAVEN? I wanted just one friend? one person to call my comrade and be there when i had an opinion on something but i guess that was just to much to ask. "Without Suffering in pain,Pleasures cant be won." And i love pain and suffering and i will show the innocent souls of WCW just why i am like this i will let you into my little piece of hell I've carved out. So it is Written so it shall come to pass. Quoth the Raven. Nevermore.
*Promo Closed*